How to deactivate facebook account temporarily or permanently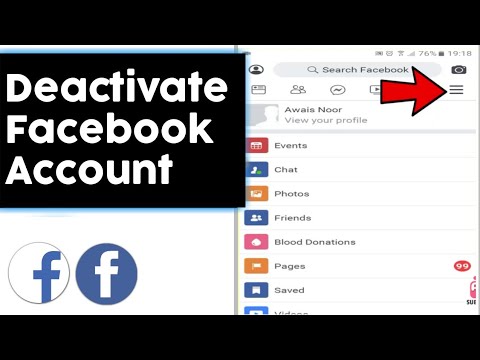 Facebook
Facebook is a popular free social networking website that allows registered users to create profiles, upload photos and video, send messages and keep in touch with friends, family and colleagues. The site, which is available in 37 different languages, includes public features such as:
Marketplace – allows members to post, read and respond to classified ads.
Groups – allows members who have common interests to find each other and interact.
Events – allows members to publicize an event, invite guests and track who plans to attend.
Pages – allows members to create and promote a public page built around a specific topic.
Presence technology – allows members to see which contacts are online and chat.
Within each member's personal profile, there are several key networking components. The most popular is arguably the Wall, which is essentially a virtual bulletin board. Messages left on a member's Wall can be text, video or photos. Another popular component is the virtual Photo Album. Photos can be uploaded from the desktop or directly from a smartphone camera. There is no limitation on quantity, but Facebook staff will remove inappropriate or copyrighted images. An interactive album feature allows the member's contacts (who are called generically called "friends") to comment on each other's photos and identify (tag) people in the photos. Another popular profile component is status updates, a microblogging feature that allows members to broadcast short Twitter-like announcements to their friends. All interactions are published in a news feed, which is distributed in real-time to the member's friends.
Facebook offers a range of privacy options to its members. A member can make all his communications visible to everyone, he can block specific connections or he can keep all his communications private. Members can choose whether or not to be searchable, decide which parts of their profile are public, decide what not to put in their news feed and determine exactly who can see their posts. For those members who wish to use Facebook to communicate privately, there is a message feature, which closely resembles email.
In May 2007, Facebook opened up its developers' platform to allow third-party developers to build applications and widgets that, once approved, could be distributed through the Facebook community. In May 2008, Facebook engineers announced Facebook Connect, a cross-site initiative that allows users to publish interactions on third-party partner sites in their Facebook news feed.
The right way to deactivate facebook account temporarily:
New Facebook
Click in the top right.
Select Settings & Privacy > Settings.
Click Your Facebook Information in the left column.
Click Deactivation and Deletion.
Choose Deactivate Account, then click Continue to Account Deactivation and follow the instructions to confirm.
Classic Facebook
Click at the top right of any Facebook page.
Click Settings, then click Your Facebook Information in the left column.
Click Deactivation and Deletion.
Choose Deactivate Account, then click Continue to Account Deactivation and follow the instructions to confirm.
When your account is deactivated:
No one else can see your profile.
Some information, like messages you sent to friends, may still be visible.
Your friends may still see your name in their friends list. This is only visible to your friends, and only from their friends list.
Group admins may still be able to see your posts and comments, along with your name.
Keep in mind that if you choose to keep Messenger active or are logged into Messenger when you deactivate your Facebook account, then Messenger will remain active. Learn how to deactivate messenger .When your Facebook account is deactivated, but you still have Messenger:
You can still chat with friends on Messenger.
Your Facebook profile picture will still be visible in your conversations on Messenger.
Other people can search for you to send you a message.
Reactivating your account:If you'd like to come back to Facebook after you've deactivated your account, you can reactivate your account at any time by logging back into Facebook or by using your Facebook account to log in somewhere else. Remember, you'll need to have access to the email or mobile number you use to log into complete the reactivation.
How do I permanently delete my account?Before deleting your account, you may want to log in and download a copy of your information (like your photos and posts) from Facebook. After your account has been deleted, you won't be able to retrieve anything you've added.To permanently delete your account:New FacebookTo permanently delete your account:
Click at the top right of any Facebook page.
Click Settings then click Your Facebook Information in the left column.
Click Deactivation and Deletion.
Choose Delete Account, then click Continue to Account Deletion.
Enter your password, click Continue and then click Delete Account.
Classic Facebook
Click in the top right.
Select Settings & Privacy > Settings.
Click Your Facebook Information in the left column.
Click Deactivation and Deletion.
Choose Delete Account, then click Continue to Account Deletion.
Enter your password, click Continue and then click Delete Account.
Can I cancel my account deletion?If it's been less than 30 days since you initiated the deletion, you can cancel your account deletion. After 30 days, your account and all your information will be permanently deleted, and you won't be able to retrieve your information.It may take up to 90 days from the beginning of the deletion process to delete all the things you've posted. While we're deleting this information, it's not accessible to other people using Facebook.Copies of your information may remain after the 90 days in backup storage that we use to recover in the event of a disaster, software error, or other data loss event. We may also keep your information for things like legal issues, terms violations, or harm prevention efforts. Learn more about our Data Policy.To cancel your account deletion:
Log into your Facebook account within 30 days of deleting your account.
Click Cancel Deletion.
What happens if I permanently delete my Facebook account?
You won't be able to reactivate your account.
Your profile, photos, posts, videos, and everything else you've added will be permanently deleted. You won't be able to retrieve anything you've added.
You'll no longer be able to use Facebook Messenger.
You won't be able to use Facebook Login for other apps you may have signed up for with your Facebook account, like Spotify or Pinterest. You may need to contact the apps and websites to recover those accounts.
Some information, like messages you sent to friends, may still be visible to them after you delete your account. Copies of messages you have sent are stored in your friends' inboxes.
What if I don't want all my content deleted, but I want to take a break from Facebook?You can take a break from Facebook and temporarily deactivate your account. When you temporarily deactivate your account:
People won't be able to see or go to your Facebook profile.
Your photos, posts and videos won't be deleted.
You can still use Facebook Messenger. Your profile picture will still be visible in your conversations and people will still be able to search for you by name to send you a message. You will continue to appear to friends on Facebook in places where they can message you.
You can still use Facebook Login for your other apps, like Spotify, Pinterest or Games.
You can choose to come back whenever you want.
Zuckerberg starts out
Mark Zuckerberg took the first steps of his path at an early age. Clearly understanding the importance of coding, Zuckerberg's father Edward taught him Atari BASIC computer programming. It didn't take long for his skills to become apparent. When he was 11, his parents hired a software developer named David Newman to tutor him. Newman to this day calls Zuckerberg a "prodigy".
Within a couple of years, Zuckerberg created an incredibly practical programme: ZuckNet. His father ran a dentists out of the house and wanted a simple way for the receptionist to contact him without shouting through their home. ZuckNet, which worked like an internal instant messaging system, did just that.
While attending Phillips Exeter Academy, an elite boarding school, his drive to create did not abate. He attracted interest from AOL and Microsoft. The wanted to buy Synapse, a piece of software that learned a user's music taste through AI and listening habits he created with a friend, and give him a job.
Ultimately, he turned it down and set his sites on Harvard. It's here where the origins of Facebook can be found. It's a decision he unlikely regrets now.
Harvard and Facemash

Having turned down two of the biggest tech companies in the world, Zuckerberg headed off to Harvard in 2002. Clearly he had bigger plans. He chose to major in psychology, but took plenty of computer science classes along with it. At first the psychology choice seems strange. Why not major in programming or something similar?
But when you think of Facebook's nature, the supposed 'addictive' nature of the likes, comments, and pokes, the psychology part becomes clearer. Facebook from the off pulls you in to share personal details and seek out interaction from other people. Being able to design something like this must involve some knowledge of the human mind.
Zukerberg attracts his first big controversy in October, 2003. He creates and published Facemash, a website that lets Harvard students judge the attractiveness of each other to create rankings (similar to the Hot or Not site that launched in 2000). As he didn't actually get permission to use student photos, unsurprisingly many were not happy with his work.
Within a few hours the site had seen 22k photo views, but within a few days it was shut down. He was hauled in front of the Harvard Administration Board. With the risk of expulsion on the table, the board finally decided to let him stay. After a public apology he moved on from his first brush with authority and set his sights on his next project.
Introducing Thefacebook
It wasn't long until we saw the first iteration of a now near ubiquitous company. February, 2004 saw Thefacebook launch. With a slightly different name, the platform was familiar. It had a profile where you could upload a photo, share your interests, and connect with other people. It also offered a network visualization of your connections.
Initially this was only opened to people with a Harvard email address and within the first month 50% of the college's student's had signed up. But there was a big problem Zuckerberg had to deal with from the off. He was being sued.
Zuckerberg ad previously worked on a similar project with fellow students Cameron Winklevoss, Tyler Winklevoss, and Divya Narendra. He eventually quit to do this one thing, Thefacebook. But this ex-collaborators say he stole their concept and ideas and they wanted recompense.
They eventually came to a settlement in 2008, with each of the trio receiving 1.2m shares in the Facebook company. By the IPO, these were worth $300m, but more on the IPO later.
Thefacebook was an instant hit and interest grew and grew and grew. By the end of 2004, membership was open to nearly all universities in the US and Canada and people were clamouring to sign up.
June of that year also saw Zuckerberg move the company's operations to Palo Alto, California and secured some important investment. Co-founder of PayPal, Peter Thiel, joined the board and brought with him $500,000.
In May 2005 TheFacebook received more money. This time investments of $12.7m from Accel and $1m from the personal fortune of venture capitalist Jim Breyer. People were really paying attention now.
In August the 'the' was dropped and the company officially became Facebook (the facebook.com domain cost $200,000). The following month high school students are admitted, along with employees of Microsoft and Apple. The company was now ready to move beyond its student base.
Then in November Zuckerberg took an important decisions about his own life. Having taken the semester off from Harvard, he announced he was leaving entirely, returning briefly to hire some new employees. After significant investment and a growing membership, Zuckerberg was ready to fully dedicate himself to running his company, as a CEO rather than a programmer.
You heard of this thing called Facebook?
With the Zuck at the helm full-time, Facebook continued its expansion plans. In December Australian and New Zealand universities were included, along with high schools from Mexico, the UK, and Ireland. That meant there were now 2,500 colleges and 25,000 high schools with access to Facebook.
It wasn't until September 2006 when the platform became open for everyone (well, anyone over 13 with a valid email address). Facebook had now gone fully global. We also started to see the rate of membership growth:
December 2006: 12m
April 2007: 20m
July 2007: 30m
October 2007: 50m
In May 2007, Facebook open their Marketplace, which lets users post classifieds to sell products and services. It also saw the launch of the Facebook Application Developer platform, opening the gates for developers to create their own applications and games that integrated with Facebook.
The platform was also looking beyond personal profiles to how businesses could use the site. By the end of 2007 over 100,000 companies had signed up, with Facebook launching Pages for Businesses to support this. Already they're making plans to build on existing ad revenue to make advertising on the platform accessible to even the smallest of businesses.
Then in 2008 we see a huge release from Facebook. April, 2008 saw Facebook Chat roll out, allow us to more instantly annoy our friends and family. Essentially, the concept is no different to ZuckNet. We also see the People You May Know, Facebook Wall, and Facebook Connect released in the same year.
Meanwhile the user count continues to grow:
August, 2008: 100m
January, 2009: 150m
February 2009: 175m
April, 2009: 200m
July, 2009: 250m
September, 2009: 300m
We also saw one of the big Facebook games appear. Farmville was released in June, 2009 and, despite being a rip off of a game called Farm Town, became a huge success. By August it had 10m daily active users. So, so much virtual corn.
The world's greatest
Then, finally, in December, 2009, Facebook hits a major milestone. With 350m registered users and 132m unique monthly users, it becomes the most popular social platform in the world. Of course, the company wasn't planning to leave it at that.
The following year saw lots more tweaking and changes, such as the ability to like comments and improvements to photo tagging. July saw the number of registered users hit 500m, while the end of the year saw a big valuation of the company.
In November, 2010 Facebook was valued at a massive $41bn. Meanwhile it became the 3rd largest web company in the US, sitting behind Google and Amazon. All of this being achieved in under five years with no sign of progress slowing.
Another huge milestone was reached the following year. June, 2011 saw Facebook reach 1 trillion page views, according to a study by DoubleClick. And then, for the year overall, Nielsen found the site was the 2nd most visited in the United States.
August also saw the release of Facebook Messenger as a standalone app. This came after the company acquired Beluga, a group messaging service, back in March.
Facebook had now become a huge name, a globally used website, and at the head of the social media revolution. Not too shabby from someone who was still in school just a few years prior.
Buy, buy, buy and sell, sell, sell
Now we reach 2012, which is probably one of the most important years in Facebook's (admittedly short) history.
In April we see Facebook make a major acquisition: Instagram. Spending $1bn, we get an idea of the kind of resources the platform now has at its disposal. This was just a month before the years big event. The IPO.
Come May and Zuckerberg was finally ready to take Facebook public. The company was valued at $104bn, $38 a share (congrats Narendra and the Winklevoss Twins). When all was said and done, the IPO raised a huge $161m, but there was trouble ahead.
The IPO was dogged with accusations of improper behaviour by underwriters and technical issues, while Facebook lost a quarter of its stock value in the process. All by the end of the same month. The IPO was declared a "fiasco" by the Wall Street Journal. By June 6 investors had collectively lost $40bn.
Over 40 lawsuits relating to the IPO were then filed. It was suggested that the underwriters (Morgan Stanley, JP Morgan, and Goldman Sachs) maybe have acted inappropriately. There were reports they they secretly cut revenue estimates mid-IPO, while there have been accusations information was fed to the underwriters from Facebook that led them to cash out.
On top of that there were problems with trading glitches and botched orders, with Facebook also being accused of running their IPO like a pump and dump scheme.
Overall, not the smoothest of IPOs. But, of course. Facebook carried on nonetheless. By October the platform saw its 1 billionth registered user.
Joining the big leagues, and drowning in hate
In 2013, a year on from the IPO and despite all the troubles it brought, Facebook joined the Fortune 500 at number 462. There was now no doubting the company was a major institution, especially as its global reach increased. But now its popularity caused problems.
An platform open to everyone is on the surface a wonderful idea. Unfortunately 'everyone' involves a lot of awful people who like nothing more than using the internet to be awful people to as large an audience as possible. Facebook had gained a major abuse and hate speech problem and seemed ill-equipped to deal with it.
Campaigning from groups like the Everyday Sexism Project and wider complaints from the user base, led to Facebook to take action. In a blog post they admitted their moderation efforts had "failed to work as effectively" as they'd liked. To try and tackle they issue they announced a number of changes:
A review and update of the guidelines used to evaluate reports of hate speech
Update the training for teams responsible for these evaluations
Increase accountability for creators of "cruel and insensitive" content meaning they must reveal their true identity
Increase communication with groups already working against hate speech
As we'll see, this was not enough to stamp out the problem.
A decade of Facebook
Photo by University of Waterloo Stratford Campus
February, 2014 saw Facebooks ten year anniversary. An incredible amount had been achieved since the dorm rooms of Harvard. So what was next?
First up were strong mobile figures. Facebook had been a proponent of a good mobile experience for a long time. This paid off with the first three months of the year seeing 1bn users log into the platform using a mobile device.
We also saw another major acquisition. In February, 2014 Facebook announced they'd be buying WhatsApp for an incredible $19bn. While Facebook already had a messaging system, this acquisition gave the access to WhatsApps younger user base and their overseas users.
And the following month there was another major buy. This time the virtual reality company, Oculus VR. In a post from Zuckerberg he said the Oculus VR headset would "enable even more useful, entertaining and personal experiences".
April saw another big change. Despite owning a technically competing app, Facebook decided to remove Messenger from the main app and make it its own application. This mean people who have to download it separately to use it. As of April 2017, Messenger boats 1.2bn active users.
It wasn't all good though. In June 2014 it was revealed Facebook had been experimenting on their users. Essentially the platform chose to show you certain content in an attempt to influence your mood. Unsurprisingly many were not happy being tested on. After people complained Facebook agreed to change how they conducted experiments, but didn't make it all the way to apologising.
Meanwhile Facebook's market capitalization was growing, reaching $200 billion by September and showing the company was still moving forward financially.
Cleaning up the timeline
The year started off with some more strong financial news. Facebook announced that in Q4 2017 they'd seen profits of $701m, a 34% increase year on year. So with the money flowing and acquisitions opening new horizons, things were looking good. Except from something dark and horrible appearing in the distance.
Before 'fake news' was a common term, it was still an issue. Social platforms, including Facebook, were being flooded with fake news stories and false information on any and all subjects. These were often written by sites trying to drive traffic for ad revenue, or to exact some kind of political aim. Either way the truth was not central to their plans.
This was an issue for Facebook who have gone on and on about how many people use their site regularly. Now that just advertised millions of people were being exposed to lies on their platform. They decided they had to do something.
In January 2015, they announced a new feature allowing users to flag an article as a 'false news story'. If this happened enough a note would be added for other users saying the article had been flagged as fake, while their algorithm would also factor in reports.
As we all know, this didn't exactly work and fake news stories just became fake news as an entire concept. But it wouldn't be the last attempt from Facebook to tackle the problem.
A more positive development was the release of Facebook reactions. This meant we could now do more than just like a post, letting us add a 'love', 'hate', 'haha', 'disgust', 'sad', or 'wow' reaction as well.By no means a major update, it showed how Facebook were still looking at some of their original functions for improvements.
Then in May Facebook begun to roll out Instant Articles. These meant publishers could set up versions of their articles that would be hosted directly by Facebook. Loading speeds would be cut dramatically, while the publishers could get revenue through advertising.
July also saw an interesting statistic released: half of the world's internet users used Facebook. This was after the platform released stats from the three months ending in June that site was used by 1.49bn people.
In the same month, a study from the Pew Research Centre highlighted why fake news on Facebook was so important. It was found 63% of Americans on the site (and on Twitter incidentally) got their news from the platform. This made Facebook ripe for the sowing and dissemination of disinformation.
There were a few other notable releases in 2015 including video calling in Messenger, the release of Facebook Live to verified public figures, and 360 video.
Cleaning up the timeline, part two
Into 2016, and as the issue of false news stories and hoaxes rumbled on, Facebook announced they now had 1.5bn daily users, 3m advertisers, and made $3.69bn in profit in 2015. Very strong numbers impossible to argue with. So people took to arguing on their timelines instead.
In June we saw Facebook make a change to its algorithm in one of the first steps that would hit publisher's and company's organic traffic from the site. They announced that posts from your friends and families would take precedence in your feed. Great for family holiday photos, not so good for news outlets.
But then in August Facebook threw publishers a bone in the form of another algorithm change. Now the platform would judge which stories were informative and then put them in front of people where the piece aligned with their interests. Although for those producing high quality journalism, they must have been frustrated that made-up news was still getting so much traction.
In the midst of this, Facebook announced a new platform: Workplace. Aimed at organisations, it essentially acted as an internal social platform for companies where employees could communicate with each other.
Then in September a crisis hit as it was revealed Facebook had been publishing misleading metrics. The company was forced to apologise for miscalculating video views and the amount of time user spent watching them. Not great timing for a company trying to fight the spread of disinformation on its own platform.
By the end of the year, fake news, as in the term, was dominating conversation. After the US elections you couldn't got a hour without someone saying 'fake news' and there were claims a lot of it could be found on Facebook. People even went so far as to claim misinformation spread on platforms like it, and Twitter, swayed the election in favor of Trump, if not increasing political polarisation in the US and beyond.
Zuckerberg himself commented on this, rubbishing the idea that Facebook could have influenced the election. Whatever the truth, fake news got far more engagement than traditional media outlets in the run up to the 2016 Presidential elections. By December, Facebook changed their tune a slight.
They announced plans to double-down on their community reporting functionality, but also announced they'd be working with fact-checking organisations and changing their advertising policies to combat ads promoting fake news. Although just tests, clearly Facebook were worried their reputation had been damaged after a month of negative press.
But, as usual, once the financial figures were released for the year, the company showed it wasn't faltering. 2016 saw them bring in over $10bn in profits (the vast majority through ads), with 1.86bn people logging in every month.
Facebook goes to Washington
With strong financials bringing in the new year, Facebook first major announcement of 2017 related to journalism (unsurprisingly). In an attempt to position itself as a company that wanted proper journalists to succeed they launched the Facebook Journalism Project.
With the aim to "establish stronger ties between Facebook and the news industry", the platform would offer up new formats for storytelling, encourage local news, offer journalism training, and teach people how to spot fake news.
The first quarter saw a number of updates to the platform too. There were new options to help others access food and shelter in emergencies, reactions added to Messenger, and new suicide prevention tools. But, inevitably, attention came back to fake news.
In April 2016, Facebook announced even more plans to tackle the spread of false information. They said they would be taking three approaches: disrupting economic incentives (hitting traffic to websites full of fake stories and hoaxes), building new products (ranking changes and continuing user reporting and working with fact checkers), and helping people make better decisions (the Facebook Journalism Project and creating a global consortium working to help people spot fake news).
Facebook continued to roll out some interesting updates, particularly the release of Facebook Spaces. This VR app allowed you to hang out with your friends 'in person'. This came off the back off more immersive 360 photos and videos released earlier in the year which worked with VR headsets.
Then, again, the platforms user numbers and financials improved In the first quarter of 2017, Facebook made over $3bn in profit, a 76% increase year on year. Then in June the company announced they'd reached 2bn members, a staggering number.
Over the next few months other updates were rolled out. Facebook continued making tweaks to try and combat fake news and video clickbait, the news feed saw some slight design changes, and they improved their clicks and impressions reporting. And then Facebook went to Congress.
In September 2017, Facebook announced they would provide Congress, who were investigating alleged Russian interference in the 2016 US elections, with ads linked to the Internet Research Agency. It was claimed the Internet Research Agency, a Russia-based organisation, that had run 3,000 ads between 2015 and 2017.
In October Facebook detailed in a blog post exactly what was in the ads and some data behind them. They revealed the ads had been seen by 10m US citizens, with 3-5m seeing them before the election. The subjects they covered ranged from race issues to gun rights.
Meanwhile another old problem came back to the spotlight (although it had never really gone away). In December Facebook released new tools to deal with harassment. The company said they would be more proactive in preventing unwanted contact, while allowing users to ignore Messenger conversations without having to block the sender.
This came after allegations of sexual assault against movie mogul Harvey Weinstein went public in October, and the ensuing #MeToo campaign which spread across the internet. On top of that, a survey released in July 2015 found 57% of women had faced abuse or harassment on Facebook. Clearly the company saw that more had to be done.