best way to thank someone|| best words used for thanking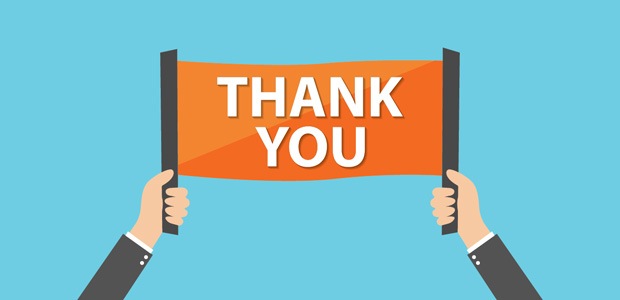 There are many ways to thank but i have mentioned the most effective words to thank someone.
The situation to thank someone can come in any time so we have to be prepared for it to say someone thank you.. By telling someone thank you we can make them happy but if we mix some effective words then it will be great so lets move to our topic, There are many situations but i have classified them so you can stare at them…
Simple Thanks
If you've chosen a card with a printed sentiment (more than just "Thank You"), then you don't have to add very much. Briefly mention the specific gift or kindness you're thanking the recipient for. Then add a warm thought like one of these…
Examples
"You're the best."
"I'm humbled and grateful."
"You knocked me off my feet!"
"My heart is still smiling."
"Your thoughtfulness is a gift I will always treasure."
"Sometimes the simplest things mean the most."
"The banana bread was fabulous. You made my day."
"I'm touched beyond words."
"All I can say is wow! (Except, of course, I'm grateful.)"
"My heart just keeps thanking you and thanking you."
"You're a blessing to me."
"Thank you for being my angel."
For a Gift
Birthday, holiday and just because
Here are some questions you could try to answer when writing a thank-you for a birthday, holiday or just-because gift: What was the gift? What do you like about it? Why was it a good choice for you? What do you plan to do with it? How did you feel when you opened it? How did it make you feel about the giver? Below are some message examples that answer one or several of those questions.
Examples
"Thank you for the bling hanger for my marathon medals. You know me so well!"
"I love the milk-glass vase. I'll think of you every time I see it on my table."
"Thank you for the fun and funky purse. I don't know where you find such unique things!"
"The table runner you sent for my birthday is perfect! I can tell you spent a lot of time picking it out, and it makes me smile to think about how thoughtful you are."
"I was so thrilled when I opened the new hiking boots. You knew exactly what I wanted."
"Thank you so much for the new alarm clock. I'd been needing one, and the one you chose is perfect to use with my phone!"
"Bless your big and generous heart!"
Graduation, wedding, baby and other life events
The challenging thing about these life-event thank-you notes is that you likely have several of them to write. It's fine to develop a general formula for what you'll write, but anytime the task starts to become burdensome, put down your pen and come back to it later. You want to sound appreciative and enthusiastic, and you're more likely to come across that way if you write five thank-you cards a day over 10 days, rather than 50 all at once.
Examples
"Wow! We are so touched by your generous wedding gift. The place settings will be used and enjoyed often—and we'll think of you every time."
"Thank you for adding to the joy of our wedding with your warm wishes and thoughtful gift. We love the candlesticks and how they look on our hall table."
"Thank you for the adorable fire engine sleeper and bib for Ben. You put a smile in our hearts. Can't wait to send you a picture of him wearing it!"
"From the bottom of my heart, thank you for organizing the group gift of the car seat and stroller for my baby shower. You shouldn't have. (But it's so nice you did!)"
"Thank you for the e-reader! I'm already using it and loving it. I really appreciate you thinking of me on my graduation."
"I so appreciate your thoughtful graduation gift to me. The watch is beautiful, and it almost makes me look like a real grown-up when I wear it Thank you so much. You're the best!"
For Help
House or pet sitting, yard work or housework, help during a busy or difficult time, above-and-beyond assistance with a project at work…anytime someone steps in and makes your life a little easier, call it out with a thank-you note.
More general examples
"This has been a challenging time, and I appreciate you so much."
"You have no idea how much your help has meant."
"For all the little and big ways you've pitched in…thanks!"
"There was nothing random about your acts of kindness. Thank you for all you have done."
"I can never thank you enough. But this is a start."
"You always know how to make life brighter for everyone you know."
"I can't possibly repay you."
"You are always so helpful."
"You make the world a nicer place."
"You went above and beyond, and I am touched and grateful."
"You took common courtesy to an uncommon level. We're so grateful for your help."
More specific examples
"Thank you for taking care of the lawn while Kevin was in the hospital. I don't know what I would've done without you."
"For my burden-bearing, laughter-sharing, forever-caring friend…a very happy, hug-filled, heartfelt thanks."
"The best way to thank you for your work on my project is to keep you informed of the outcome—and I promise to do that. Meanwhile, you have played such an important part and your help won't be forgotten."
"It's harder and harder these days to get the number of volunteers we need—but you made time in your busy schedule to step up. That means even more as every year gets busier."
"I'm using you as an example to my kids of someone unselfish, giving and ready with a can-do spirit. I hope they turn out just like you."
"Thank you for the wonderful meals you brought and arranged during Emily's bed rest. Our hearts have been deeply touched by your kindness."
Thank You for a Job Interview
Thanking the interviewer after a one-on-one interview not only shows your appreciation. It's also a reminder that you're a strong candidate for the job.
I appreciate having the opportunity to speak with you today about the [job title] at [company name].
I appreciate the time you and the [company name] team spent interviewing me.
I appreciate your time and consideration in interviewing me for this position.
I enjoyed speaking with you about the opportunity to work with your company.
I greatly [or, "sincerely"] appreciate the time you took to interview me.
I sincerely enjoyed meeting with you to discuss the [job title] opening.
I would like to thank you and your staff for the opportunity to meet with you.
Many thanks for the opportunity to meet with you.
Thank you for speaking with me about the [job title] position at [company name].
Thank you for the courtesy you extended to me during my interview.
Thank You for Providing a Reference or Referral
Reference writing can be labor-intensive, and it can also take time to refer someone for a job. Your connections will appreciate receiving a thank-you email or message.
I appreciate your taking the time to write a reference for me.
I really appreciate the reference you gave to [company name] on my behalf.
Thank you for taking the time to provide me with a reference.
Thank you very much for recommending me for the position.
Thank you for referring me for the job at [company name].
Thank you so very much for referring me for the [job title] position at [company name].
Thank you so much for putting me in touch with [individual name] at [company name].
Thank you so much; I really appreciate it!
Workplace Thank-You Phrases
Bosses and employees love to be thanked, especially when they do something extra.
I really appreciate the effort you have contributed to your team's project.
I sincerely appreciate your flexibility and willingness to help.
I wanted to express my personal gratitude for the effort and extra time you have contributed.
Thank you for your confidence and support.
Thank you for your help. I'm thrilled to have you on our team.
Thank you for always going above and beyond.
Thank you for proving what it means to be part of a team.
Thank you so much for meeting with me yesterday regarding the project I'm working on.
How you end your message or note is important, too. A professional closing like "Sincerely," "Best regards," or "With appreciation" will add a nice finishing touch to your communication.
The Benefits of Sending a Thank-You Note
When you're job searching, you'll have many different opportunities to say thank you to those who help you, and to prospective employers.
For example, when you write a thank-you note after an interview, the gesture shows appreciation for the employer's interest, time, and attention, reiterates your enthusiasm and interest in the job opening, and reminds the employer about your qualifications and experience.
Thank-you notes are a good opportunity to bring up something you may have forgotten to mention during the interview, or to follow up with additional information that the employer has requested.
Usually, an interviewer will explain next steps in the process and when to expect to hear back from the company. If they did not discuss this, or you have yet to hear from them, use your thank-you letter as an occasion to follow up. Doing so in a thank-you note can express your gratitude and show your unwavering interest in the position while simultaneously checking in on the process.
Review Thank-You Message Examples
Thank-you notes can be handwritten, typed, or emailed, depending on preference and circumstance. Thanking someone for acting as a reference for you, or for letting you shadow them at their job, doesn't require the swift delivery that an interview thank-you would (where the hiring process is going to move along quickly,
requiring you to send your thanks immediately after your interview).
Timing is almost as important as what you say. An email will make an immediate impression. That's key if you're in contention for a job, especially at a medium-sized to large company.
Say Thank You in English — Formal Situations
Some daily situations – at work and in our personal lives – require more formal language. And this is often true in writing.
For example, if you're expressing thankfulness or gratitude in a speech at a wedding, a formal reception or networking event, or in a lecture, it would be appropriate to choose more formal language.
Or if you're writing thank you notes to friends and family members; if you're sending an email to say thank you to a new client; or writing to another company, again, you'll want to use these more formal expressions.
I'm so grateful for… / I'm so thankful for… / Many thanks for…
Writing some thank you notes to friends who helped you after the birth of a baby or while you were helping a sick parent?
"I'm so grateful for your help. It was a challenging time but you made it easier. Thank you."
"I'm so thankful friends like you."
I truly appreciate… / Thank you ever so much for… / It's so kind of you to…
Are you sending an email to everyone on your team at work for working overtime or volunteering to work on a Saturday?
"I truly appreciate everyone's efforts and commitments to our success. Thank you for taking time out of your personal time to meet our deadline."
"It was kind of each of you – and your families – to give up a Saturday to help our company volunteer at the 10km race to benefit cancer research."
Thank you for going through the trouble to… / Thank you for taking the time to…
Did one of your business contacts take some extra time to give you some information you needed? Send an email to say thank you…
"Hi, Samantha. I just wanted to send a note to say thank you for taking the trouble to answer all my questions. I know you are busy and I appreciate that you took the time to respond quickly. Thank you."
I'm eternally grateful for… / I cannot thank you enough for… / I want you to know how much I value… / Words cannot describe how grateful I am for… / Please accept my deepest thanks for…
Sometimes we have very difficult times in our lives. Maybe a loved one becomes ill. Someone passes away. Or perhaps you lose a job.
Tragedies happen. These can be terribly stressful times. If you are writing someone to thank them to help you, these expressions are most appropriate.
"I'm eternally grateful to you for providing dinners to my family while I was in the hospital. I felt comforted knowing they were well-feed."
"Words cannot express how grateful I am for your help after my mom passed away. I was devastated and you helped me get through each day. "
Say Thank You in English — Professional Situations
If you are writing an official business email or business letter, then it's best to use professional, formal expressions to show your thanks or appreciation.
For example, you may be writing to thank someone or to thank another company for their help. Or perhaps you want to express your gratitude for them working with you this year.
Thank you for your assistance with… / Thank you for your attention to this matter
"Thank you for your assistance with/attention to this matter. We look forward to hearing from you shortly."
Your support is greatly appreciated. / I'd like to express my/our appreciation for… / Thank you for your kind consideration.
"Your support in this discussion is greatly appreciated and we look forward to continuing our work with you."
"On behalf of our company, I'd like to sincerely express our appreciation for your business this year. We wish you Happy Holidays and look forward to another successful year together."
By the above ways you can thank someone.