How to add new post in wordpress blog website?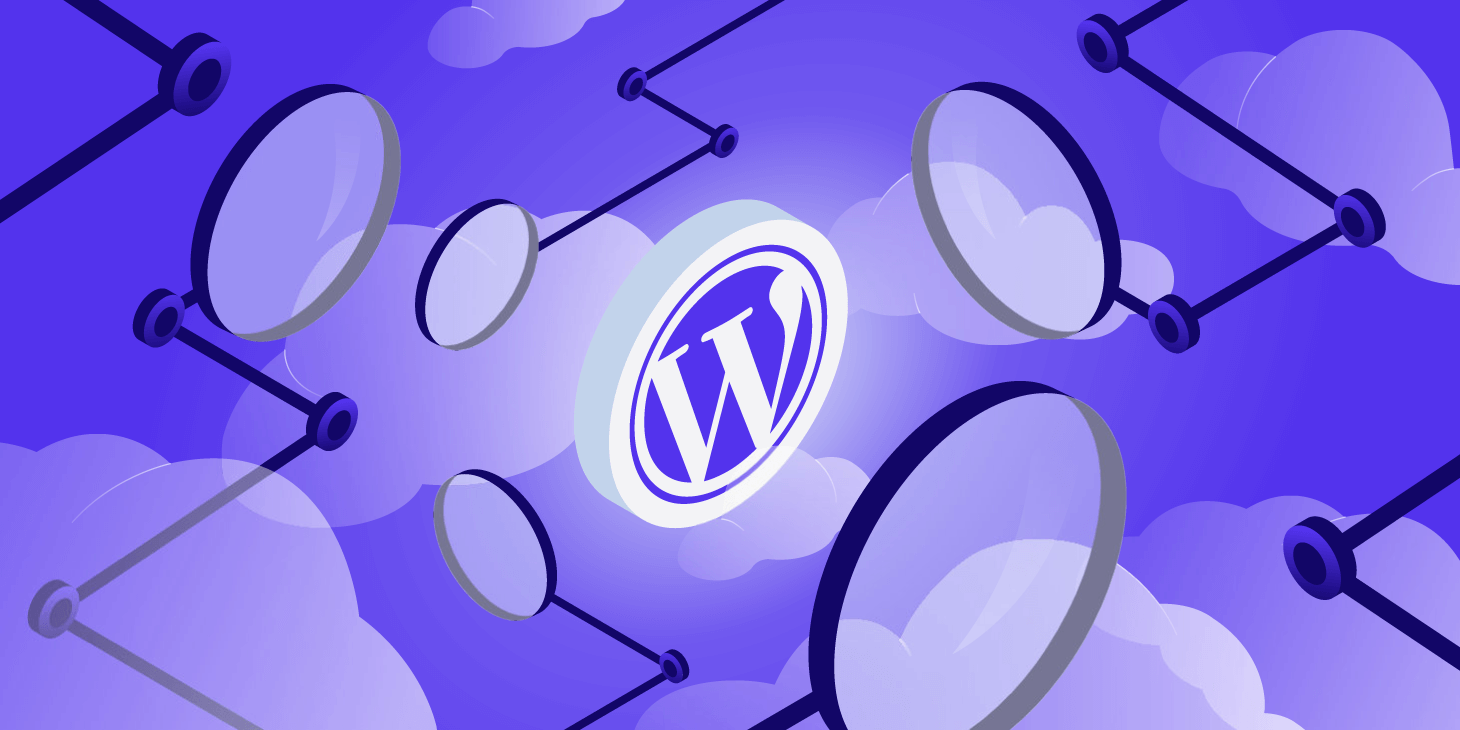 How to add a new blog post in WordPress
Wed 8, april
What is WordPress? At its core, WordPress is the simplest, most popular way to create your own website or blog. In fact, WordPress powers over 35.2% of all the websites on the Internet. Yes – more than one in four websites that you visit are likely powered by WordPress.
On a slightly more technical level, WordPress is an open-source content management system licensed under GPLv2, which means that anyone can use or modify the WordPress software for free. A content management system is basically a tool that makes it easy to manage important aspects of your website – like content – without needing to know anything about programming.
The end result is that WordPress makes building a website accessible to anyone – even people who aren't developers.
What Kinds Of Websites Can WordPress Make?
Many years ago, WordPress was primarily a tool to create a blog, rather than more traditional websites. That hasn't been true for a long time, though. Nowadays, thanks to changes to the core code, as well as WordPress' massive ecosystem of plugins and themes, you can create any type of website with WordPress.
For example, not only does WordPress power a huge number of business sites and blogs, it's also the most popular way to create an eCommerce store as well! With WordPress, you can create:
Business websites
eCommerce stores
Blogs
Resumes
Social networks
…pretty much anything else you can dream up.
Here's how to install a WordPress theme.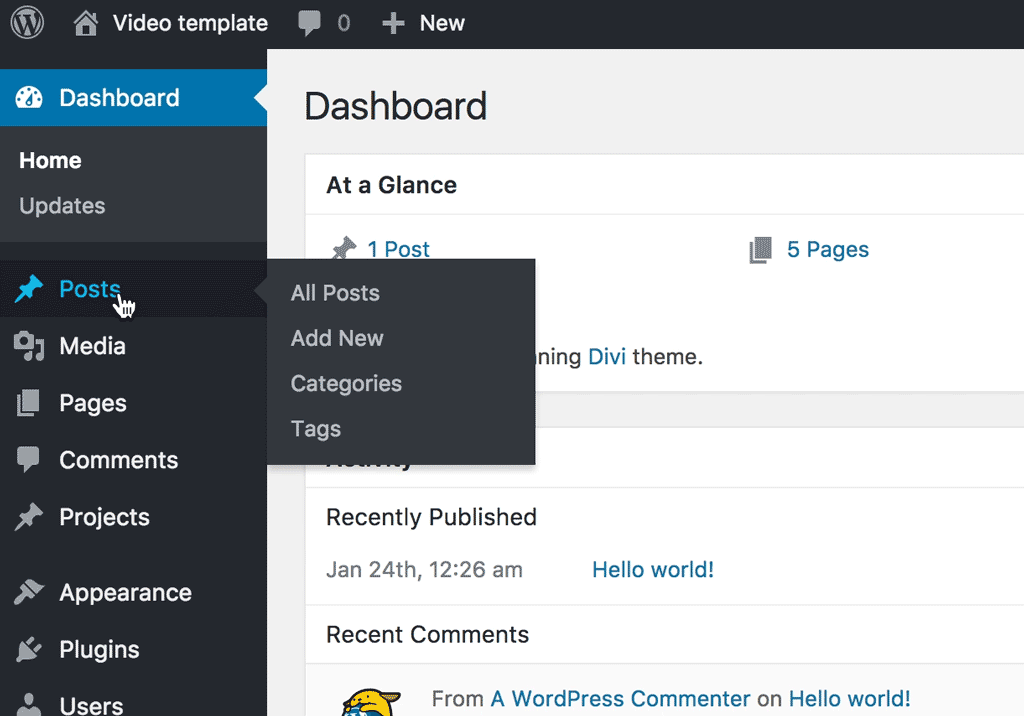 A quick beginners guide on how to create a new blog post in WordPress!
Step 1: Log in to WordPress
Go to yoursite.com.au/wp-admin and log in with your username and password.
You'll then be taken to the WordPress dashboard. If you were already logged in, you'll go straight to the WordPress dashboard without having to log in again.
Fill the required username and password for login.
Step 2: Create a new post
There are several ways to add a new post – the easiest way is to hover over the Posts tab and click Add New.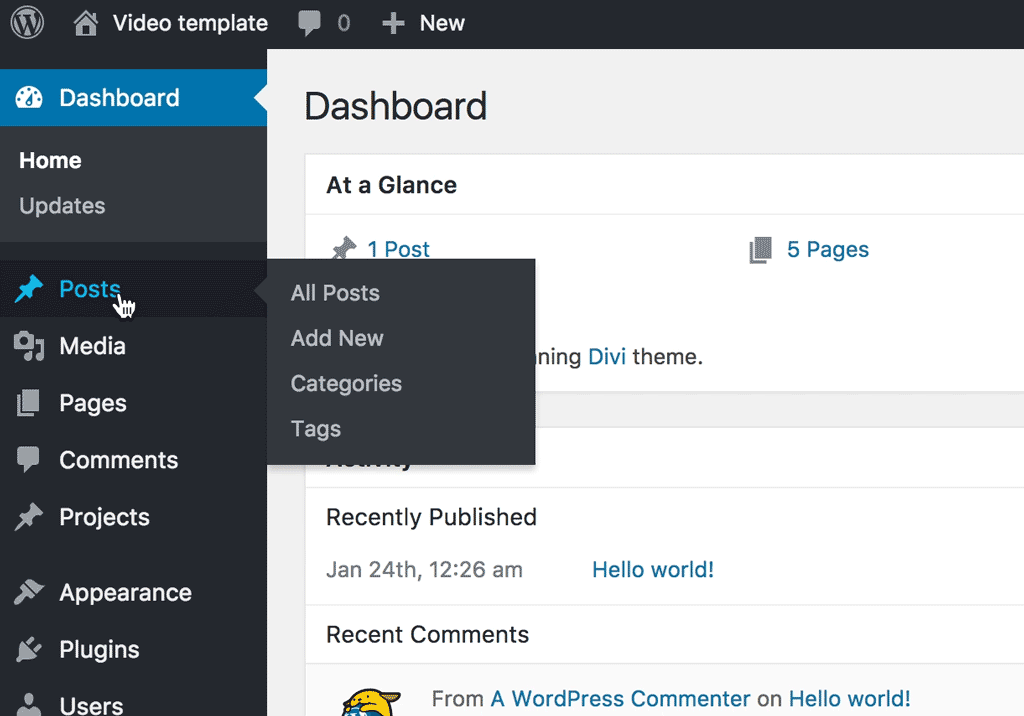 Alternatively, can hover over the New tab in the top bar and click on Post. You can also click on the Posts tab and then click Add New at the top of the posts screen.
Step 3: Enter the title of your new post
Put the title of your post in the first box at the top that says Enter title here.

Step 4: Enter body content
The big box below the title box is where you put all the text, images and other content that makes up your new blog post.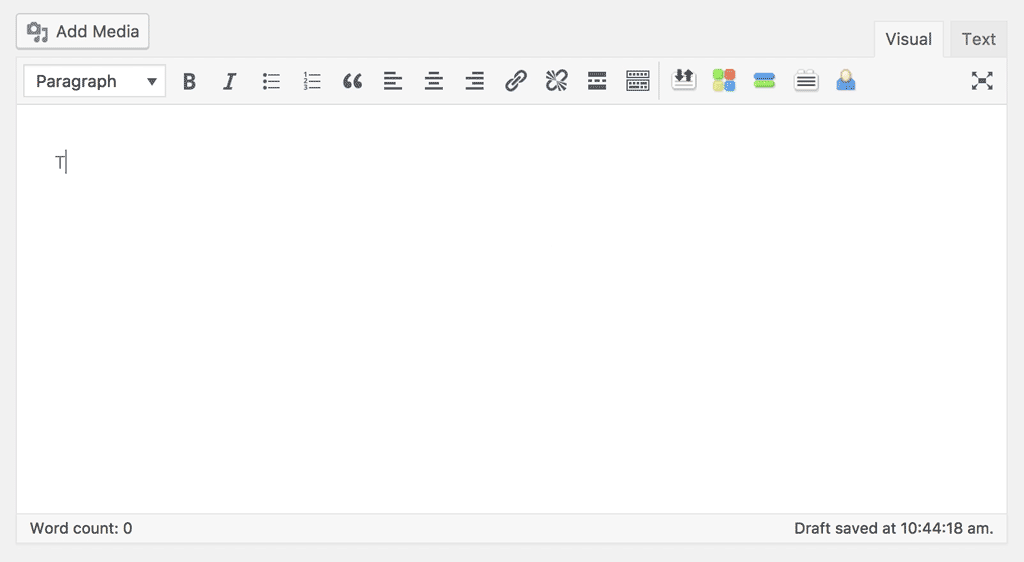 The WordPress editor provides you with formatting tools like Bold, Italic, Paragraph Alignment, Styles, Lists and a bunch of others.
Step 5. Choose a feature image
The feature image will usually be shown at the very top of the post. It will also be your post's thumbnail, meaning wherever this post appears, the thumbnail image will appear along with it.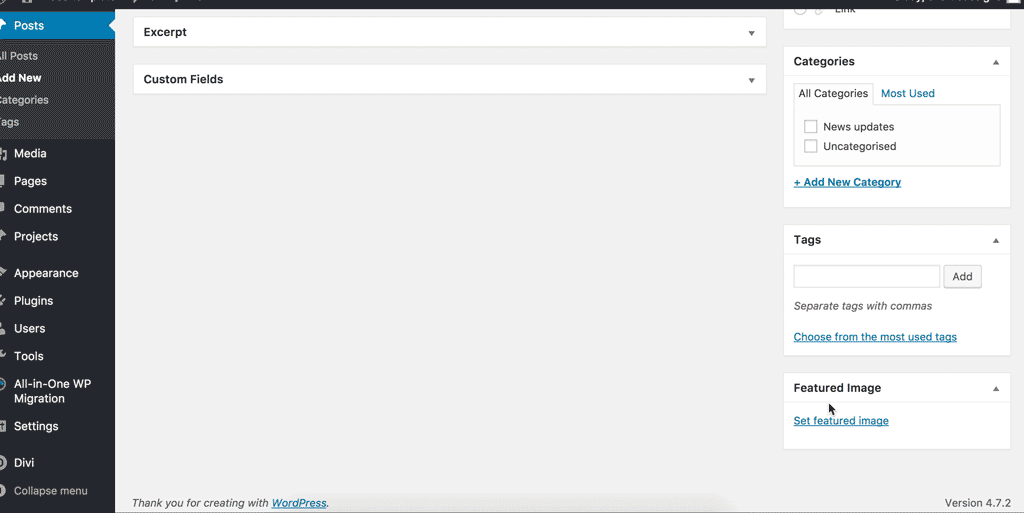 You can upload a new image, or use an existing image from your media library.
Step 6. Select tags and categories
Tags and Categories are located on the right side of a post.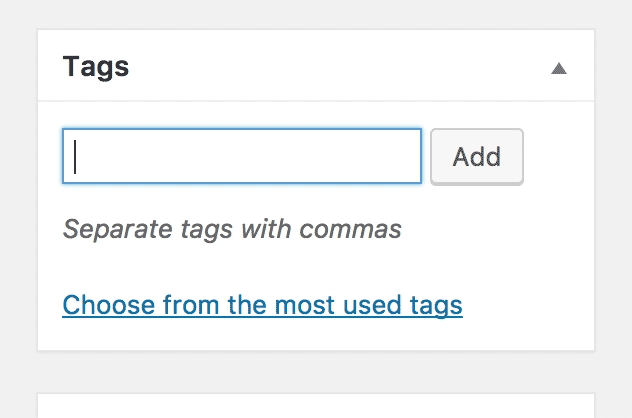 Categories are usually broader whereas Tags are generally a bit more specific. For example, if you were posting a cake recipe, your Category might be 'Baking' and your Tags might be 'Cake', 'Birthday' and 'Icing'.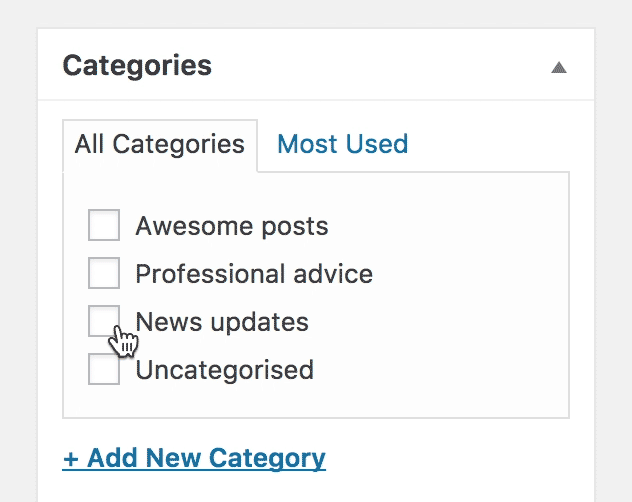 When creating tags and categories, try to think of topics that people will want to read more about. You don't want your tags/categories to be too general, but you also don't want them to be so specific they only contain one post.
Step 7. Hit publish!
You can preview what your post will look like on your actual site by clicking the Preview button in the side bar. Once you're happy and your post is finished, click on the blue publish button on the right-hand side and your post will be live!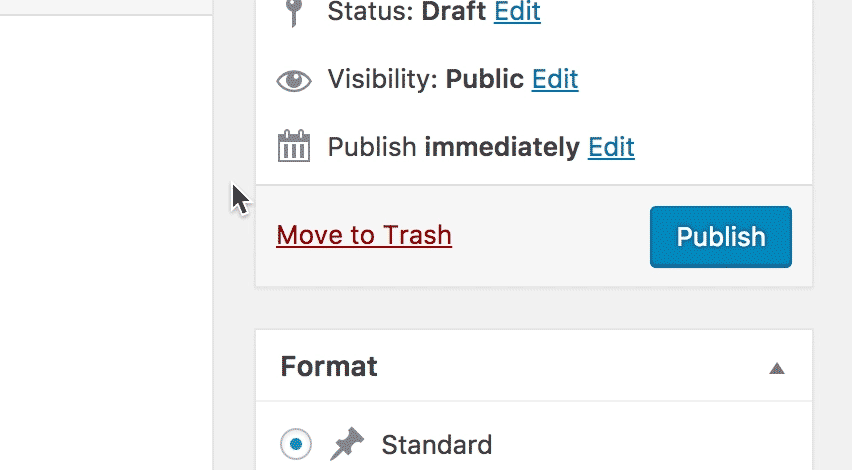 Or you can hit Save Draft come back to it later. Drafts are saved in WordPress but not visible to any of your site visitors. —   So there you have it! Creating new blog posts in WordPress is easy once you've done it a few times. Happy blogging!
Do you want to know about the history of WordPress?
If you are starting a WordPress blog or website today, then you see a popular website builder which powered more than 32% of all websites on the internet. In this article, we want to take a look back at the history of WordPress to show you how it evolved over time.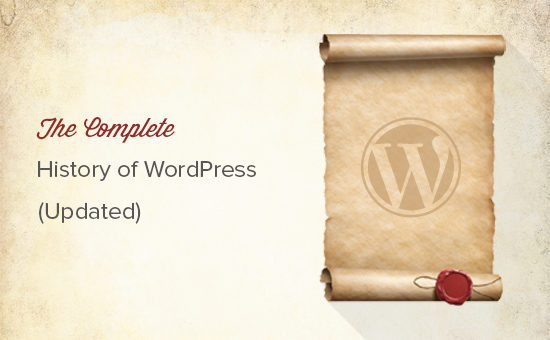 The story of WordPress tells us how open source communities work to make something so useful without compromising software freedom. WordPress project is driven by a community of dedicated developers, users, and supporters (Related: Why is WordPress free?).
WordPress started out because the development of an existing blogging software b2/cafelog was discontinued by their main developers. In 2003, two users of b2/cafelog, Matt Mullenweg and Mike Little, decided to build a new platform on top of b2/cafelog.
They probably didn't know that they are about to start a journey that would eventually benefit millions of users around the globe, create thousands of jobs, and a whole industry of developers, designers, writers, bloggers, and web publishers would make their living off it.
On May 27, 2003, Matt announced the availability of the first version of WordPress. It was well received by the community. It was based on b2 Cafelog with significant improvements. The first version of WordPress included a new admin interface, new templates, and generated XHTML 1.1 compliant templates. The post editor looked like this: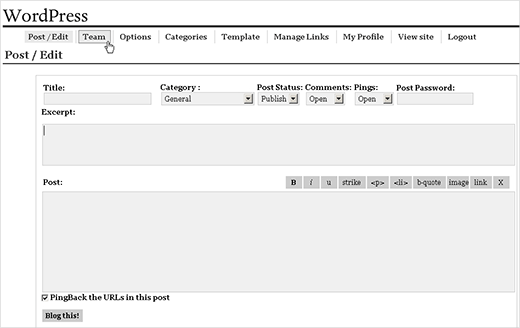 In May 2004, version 1.2 of WordPress came with plugin architecture. This enabled users and developers to extend the functionality of WordPress by writing their own plugins and sharing them with rest of the community.
As WordPress was opening itself to the community, something totally opposite was happening in the blogging industry at that time.
The market leader in blogging tools industry at that time was Moveable Type. They announced new licensing terms which were not liked by many of their users. This forced many of their users to look for a new blogging platform.
WordPress 1.2, presented itself as an ambitious project offering users a mature, stable, easy and flexible platform with features that rivaled their proprietary competitors. The adaption rate of WordPress skyrocketed with this release.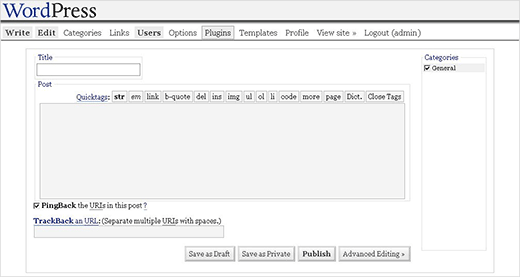 With the increase in the number of users, WordPress started getting better with the help and interest of the community.
In February 2005, WordPress 1.5 came with Pages, comment moderation tools, new default theme Kubrick, and a completely new Theme System. Matt announced themes with these words:
In 1.5 we have created an incredibly flexible theme system that adapts to you rather than expecting you adapt to it. You can have your entire weblog run through a single file, just like before, or you can literally have a different template for every single different category. It's as much or as little as you want. We've also broken common site elements like headers, footers, and sidebars into their own files so you can make a change in one place and see it everywhere immediately. "Matt Mullenweg – Announcing WordPress 1.5"
In December 2005, WordPress 2.0 was released with a new admin dashboard. This new admin area was a complete overhaul of the administration screens in WordPress.
It used JavaScript and DHTML to make a better user interface where users did not need to load a page to perform some simple tasks. Users were now able to add categories and tags to posts without leaving the post editor or delete comments without reloading the comments screen.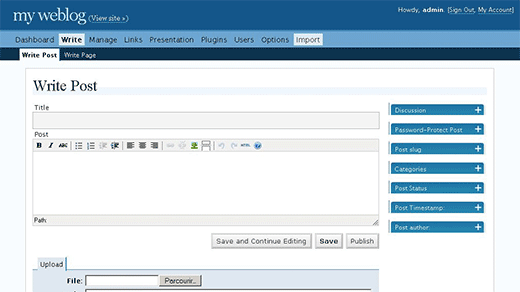 The shiny new admin UI was not the only significant improvement in this release.
It was the first release that came with Akismet anti-spam plugin pre-installed. It also came with a WordPress database backup plugin, wp-db-backup, which was then dropped in 2007. Another first for this release was the introduction of a functions.php file in the Theme System.
On March 1, 2006, Automattic, the company founded by WordPress co-founder Matt Mullenweg, filed the trademark registration for WordPress and WordPress logo.
In 2008, a web design company called Happy Cog joined the WordPress project to help design a new WordPress admin interface. A usability study was conducted to design the admin UI.
Throughout the year new features such as shortcodes, one-click updates, and built-in plugin installation were added to WordPress with different releases.
In June of 2010, Automattic, the company founded by WordPress co-founder Matt Mullenweg, transferred the ownership of WordPress trademark and logo to the WordPress Foundation. This was a significant moment in WordPress history, because it ensured that WordPress will continue to grow, and is not dependent on a company or a group of developers to continue the project.
On June 17, 2010, WordPress 3.0 was released. It was a major step towards WordPress as CMS. This release introduced several features such as custom post types, better custom taxonomies, custom backgrounds, header, menus, contextual help on admin screens, etc. WordPress MU project was merged into WordPress core to create Multisite networks.
It also came with Twenty Ten, which started the tradition of a new default theme for each year.
In 2011, Post formats and admin bar made their way into WordPress.
Around that time, some really cool WordPress plugins were building powerful eCommerce platforms on top of WordPress. This enabled WordPress users to create online stores and build powerful ecommerce websites using WordPress.
In 2012, theme customizer, theme previews, and new media manager were introduced. These features tremendously helped new users in creating image galleries and previewing themes before they change to a new theme.
In 2013, WordPress 3.7 came with the new automatic updates feature that allowed WordPress to automatically update your site's software for minor releases. The automatic updates feature is very similar to what Google Chrome browser does. Several users didn't like the feature, so we wrote a tutorial on how to disable automatibecometes.
By this time WordPress had already became the most popular CMS in the world.
In December 2013, WordPress 3.8 was released which introduced MP6, the new WordPress admin interface. This new interface was responsive and was aimed to provide a better user experience to users, on any device or screen size.
On April 16, 2014, WordPress 3.9 was released. It focused on improving the WordPress visual post editor. Images can now be dragged and dropped directly into the post editor. Users are now able to edit images right inside the editor and see their gallery previews inside the editor. WordPress 3.9 also introduced live widget previews, audio playlists, and several other enhancements.
More refinements were made to WordPress core throughout the year with subsequent WordPress 4.0 and WordPress 4.1 releases.
2014 was also the first year when non-English downloads for WordPress surpassed English downloads.
In 2015, WordPress 4.2, 4.3, and 4.4 were released. These releases focused on improved localization, emoji support, theme customizer, and laying down infrastructure for the WordPress REST API.
In the same year, WooCommerce, the most popular WordPress eCommerce plugin was acquired by Automattic (the company founded by WordPress co-founder Matt Mullenweg).
In 2016, WordPress 4.5, 4.6, and 4.7 were released. Each release introduced some new features and improvements. Most notable changes during the year were streamlined updates for plugins and themes, content recovery by using browser storage, and custom css feature for theme customizer. By the end of the year, WordPress.org announced actively supporting HTTPs
In 2017, WordPress 4.8 and 4.9 were released. These releases brought several new default widgets to add audio, video, images, gallery, rich text, and HTML. These releases also laid the groundwork for the new WordPress block editor.
In 2018, WordPress 5.0 was released with a brand new editing experience. The new WordPress block editor project was codenamed Gutenberg. See our complete Gutenberg tutorial – WordPress block editor.
What's next for WordPress?
WordPress is continuously evolving to address the needs of the millions of web publishers around the world. The direction of WordPress directly depends on the needs of users. We can safely assume that it will continue to empower people around the world to create wonderful web spaces.
We hope this article helped you understand the history of WordPress. You may also want to see how WordPress works behind the scenes (infographic) and what are the best WordPress plugins that every website should use.
Thank you for visiting our page